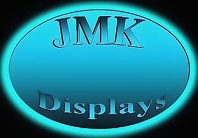 Phone / Fax:  1  (585) 547-9843

All rights Reserved



$25.00 Minimum billing per order.

Clear Acrylic and Lexan Sheet

We stock from 1/8"- 1/2" thick. We can cut to your needed sizes up to 22" x 36" for shipping with standard shipping services. ANY larger will need to be shipping by truck freight to a business address ONLY.

All edges will be saw cut finish unless specified, either routed, or polished edges.

All cuts will be quoted +/- 1/8" on all dimensions.

All acrylic material is film masked to keep protected during shipping.

Please fill out the
form
below for quotes.
Acrylic or Lexan material:

1/8" thick material: $3.00 per square foot

3/16" thick material: $4.00 per square foot

1/4" thick material: $4.50 per square foot

3/8" thick material: $9.00 per square foot

The square footage is figuared out to the nearest  6" dimension.

Example: 1/8"Thk. x 14" x 22"

quoted: 18" x 24" (3 sqare feet) = $9.00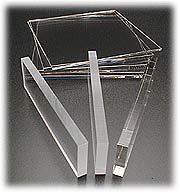 Simply a saw blade cut finish.

We route the edge on a shaper useing a router bit to remove saw cut finish off.

We polish the edge after it has been routed for a tanslucent clear look.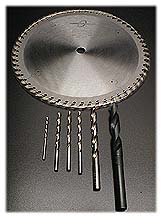 Acrylic tablesaw blades

and acrylic drill bits.

1/2" thick material: $13.00 per square foot

Please check E-mail address B-4 submitting form.

The acrylic sheet prices at left do not include cutting charge.

The cutting charge will be determined by total amount of pieces and sizes.

Our cutting Tol. is +/- .125 (1/8") unless otherwise specified.

Clear Acrylic Lucite Plastic Plexiglas® sheet cut to size.

The below sheets are large cut sizes and full 48" x 96" as well as full pallet/skid quantities.

No shipping cost is added to the prices. Full sheets and larger cut sizes will need to ship truck freight only (Standard truck freight is Approx. $120.+) and must ship to a business address.

Forklift must be available to off load.

Please fill out the orm below for a detaild quote on your needs.

Clear Extruded Acrylic Sheet film masked both sides

The below prices are for smaller cut pieces to your needs.

Fill out the form below for custom quote on Acrylic or Lexan sheet